School Profile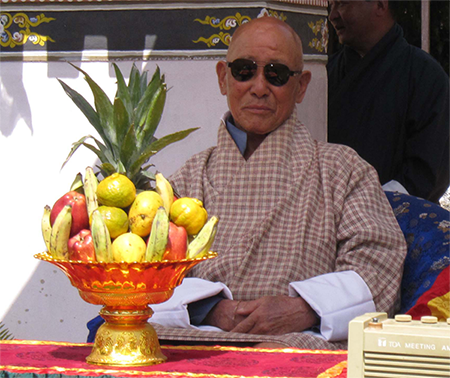 UGYEN ACADEMY (UA) HIGHER SECONDARY SCHOOL : (Profile: 2023)
Name of the school : Ugyen Academy Higher Secondary School
Year of Establishment : 2002
Total Land Area : 10.88 Acres
Classes/Courses Offered : VII – XII (Arts, Commerce & Science)
Total Students :
Male : 471


Female : 414

Grand Total : 885
Total Teachers :
Male : 37

Female : 17

Grand Total : 54
Support Staff :
Male : 29


Female : 16

Grand Total : 43
Location: The school is located between Khuruthang Middle Secondary School and Khuruthang Town that which is 4KM before reaching Punakha Dzong

Royal Visits
Year of His Majesty's Visit

Main Royal Concerns

Initiatives from the school

Royal Soelra

03rd April 2002

The 141 students who were not only students who did not meet the cutoff point but were also mostly rejected by other private schools.

"Students make the (Zhung) soul of the school"

Worked tirelessly 24 X7

Tokha by HM and Late Hon'ble Dasho Yab Ugyen Dorji

11th October 2008

Young people making wrong choices in life

03rd May, 2012

HM congratulated the teachers and students asked and inspired us to continue to excel

A student Gyem Tshering (Cultural Captain) was blessed to receive HM's wrist watch

12th June, 2013

His Majesty the King accompanied by Her Majesty the Queen visited the school. Their Majesties spoke to the students in the assembly ground and met separately with the teachers in the staff room. His Majesty commended the teachers for the hard work they were putting and emphasized on being good role models – "leading self" and not necessarily others. Today at UA, "leading self" is at the core when it comes to inculcating values education.

Introduced "Leading Self" as part of the values education classes under the topic " Understanding Self"

The school also received a solera of Nu.90, 000/- (ninety thousand) for a school picnic. The entire school enjoyed a day off with a school picnic on 13th October, 2013 (coinciding with the 2nd Royal Wedding Anniversary). The accounts were instantly settled with the office of the Gyalpoi's Zimpoen.

Monday, 18th March 2019

HM inspired the students on the following three things:

1. Purpose of Education /School

2. Importance of Reading and

3. To Serve the Nation

His Majesty The King later met the teachers and the Principal separately.

10 Minutes every morning was given to each class for reading news from Kuensel in English and Dzongkha
Kidu Student
| | |
| --- | --- |
| Sl. No | Name |
| 1 | Miss Tashi Keldon Dorji (2017) |
*We had "Tozay(s)" till 2017 but none in 2018, 2019 & 20. However, MoE's kidu cases under UA scholarship 6 annually till 2019. No more kidu cases after cutoff point was removed in 2019.
Infrastructure and facilities
1.One Administrative Office with 4 units Principal's Office
A Trophy Display Room

Data Manager Room

Stores
2.One Science Block – Inclusive of following:
Biology Lab

Chemistry Lab

Physics Lab

2 Science classrooms
3.Two Academic Blocks (with 12 classrooms each – total of 24 classrooms)
4. A duplex (semi-concrete) with
Library

IT Lab
5.Prefab (duplex) structures housing
Staff room

Infirmary

Vice Principal's Office

Audio Visual Lab

General Stores
6. An Auditorium with 800 seating capacity
An " Choesum" (alter room) on top

A Guest room adjacent to the alter room
7.Toilets:
96 in the hostels

66 in the school

4 for staff
8. One new football Stadium artificial turf
9. One multipurpose court
10. One Mini Stadium with astro turf and night lighting facility
11. One Additional Science Hostel (Campus II Wolokha)
12. One School Canteen
13. A New AV Lab/ Education Museum (still working on)
14. One New Academic Building (junior Wing) outside UA campus with
5 class rooms

23 toilets

52 Bedded Hostel

One staff room

Space for integrated la
15. New Dining Hall with 800 seating capacity
16. DG Hostel (Dining Hall Girls' Hostel)
17. Campus II
Gomo PG (Boys and Girls)

Wolokha Hostel
18. Quarters
Warden/Matrons 2nos

Teachers 8 nos
Brief Background on the Institute:
Ugyen Academy opened on 3rd April 2002 with 154 students. It started as a pet project of Hon'ble Yab Dasho Ugyen Dorji and Yum Thinley Choden. It was a wish fulfilled for the local people and a hope for the students who did not meet the government cut off point. The school made steady progress and the enrollment rose year by year. The overview below shows the growth over the years:
Year

Class/Stream

Male

Female

Total

Remarks

2002

XI

85

69

154

Arts and Commerce only

2003

XI & XII

265

228

493

Arts and Commerce only

2004

IX,X,XI& XII

299

276

575

Science Stream introduced

2005

X, XI & XII

345

291

636

All three streams

2006

X, XI & XII

339

317

656

Delink from ISC

2007

X, XI & XII

394

336

730

BCSE & BHSEC

2008

X, XI & XII

422

374

799

BCSE & BHSEC

2009

VII to X, XI & XII

433

434

868

Class VII introduced

2010

VII to XII

457

428

885

Classes VII to XII

(with all three streams)

2011

460

492

952

2012

511

507

1018

2013

556

515

1071

2014

506

544

1050

2015

505

507

1012

2016

500

510

1010

2017

553

563

1116

2018

573

571

1144

2019

505

510

1015

2020

552

521

1073

2021

515

521

1036

2022

435

457

892

2023

471

414

885
Today, it is the first and only authentic international school in the Kingdom, where wholesome education is offered in a state-of-the-art setting. The school has students from all the 20 Dzongkhags in the country and international students from South Korea studying regular classes. The School is second to none in the exciting possibilities it has with the most modern facilities on campus and a faculty rich in talent and experience. For effective teaching and learning the strength of our classes will not usually exceed 36 students. Our classrooms for classes VII and VIII have been remodeled to meet the 21 Century Transformative Pedagogy. The academic facilities are designed to include a 100,000 volume library (with a special section on Bhutan), a separate reference library and a well equipped Audio Visual Library to cater for digitized curriculum. The school also boasts of an IT lab with broadband facilities.
In the present milieu with erosion of values and lowering of standards in most institutions, Ugyen Academy stands out as a school with strong value system and a code of conduct and discipline, which is based on mutual respect. Our restorative practice Responsible Thinking Room (RTR) and Peer Mediation help to build every student internally. We uphold our founder's vision and stress on total development – head, hand and heart. Thus we are deeply committed in instilling in our students, positive traits like self discipline and social harmony that will lead to Gross National Happiness and Global Peace.
Yes, we are consistently maintaining our ranking in the list of top 10 performing schools right from the start of the rating by Ministry of Education (MoE) in 2009 - that too at both Middle Secondary and Higher Secondary Levels. The MoE's rating in 2019 ranked UA once again as the Number One School at both the levels in the country.
Vision
A school of Winners, Innovators, Leaders, and Learners – a school of WILL. We feel that being the best is not just enough in this ever changing and fiercely competitive world. One needs to be innovative in order to excel and move ahead. Hence, a school must aspire to prepare students not only for today's world but also for a world where there will be jobs that have yet to be invented and challenges not yet foreseen. At Ugyen Academy (UA) we prepare ourselves for times unknown. Above all we win HEARTS.
Mission
We strive to "identify and nurture the innate potential of our students to bring out the best in every individual." This is done by providing a variety of learning experiences and opportunities in a safe and caring environment.
Goals:
Visionary Leadership and Role Model Management Practices (Show not just tell)
Ensure a Safe and Caring Physical Ambience – safety first;
Develop a Congenial Psycho-social Ambience – to teach from the heart
Work towards a customized and diversified Curriculum- foster the zeal to learn
Be fair and standardize all tests to make them all reliable and valid - Continuous and Holistic Assessment
Plan and Implement Meaningful Co-curricular Activities – Wholesome Development: Recreational and Professional
Develop a One Family-like School Community Relationship
Motto: It is further powered by the school motto, "Be Your Best" to drive each and every individual to stretch to their limits. Each child is made to see himself or herself as the best competitor; you compete with self to be the best.
Beliefs: Values - Our core values such as Creativity with Compassion, Accountability with Acceptance, Responsibility with Resilience, Passion with Positivity, Empathy with Empowerment and Trust with Tolerance (UA CARPET) helps to enthuse the UA family to realize our vision
Further, we (teachers) work hard to embed in our students the five extraordinary qualities that define us as Bhutanese (Re: Extract from His Majesty's Address (SMART) 12th Convocation of the Royal University of Bhutan (8th June 2017: it is printed in our Student' Diary 2021).
"These are five extraordinary qualities that you possess. Tha Damtshi or unwavering loyalty, is a natural and instinctive trait. Bhutanese are Sincere. We have integrity. No matter what we do, there is a degree of sincerity that is worthy of praise. We are Mindful. We are always mindful of our duties, responsibilities, obligations, and wellbeing – not just our own wellbeing but the wellbeing of everyone.
We Bhutanese are very Astute. That is why we have been able to build a country like Bhutan. We have worked with great ingenuity, perception, and wisdom. We have the intelligence and skills to be able to strengthen our country. We are clear minded and competent people.
We are Resilient. We are well-tempered and strong, not afraid of suffering, not averse to hardship, ready to face problems and risks. Since time immemorial we have not been overcome nor destroyed. We have had the resilience to withstand the biggest challenges and threats. We do not just live in the present but are aware of the future. We care, not just for this generation, but for different eras and generations to come. We understand that whatever we have has to be Timeless. We realize that we are impermanent, that our children will inherit what we leave behind, and our country will be there for all times to come.
The acronym for these extraordinary qualities of the Bhutanese people – Sincerity, Mindfulness, Astuteness, Resilience, and Timelessness – is SMART. Bhutan has always been a smart nation. That is why we must continue to build smart institutions, and that is why it is imperative that our people remain smart. We must nurture these wonderful qualities and remember every day, how they have defined us as a nation and as a people. We must remember that these qualities will help us navigate the 21st century and build an even better place. Our country has an extremely bright future and that future is in your hands."
School Core Values (Hidden Curriculum):
prove deep love, respect and support to our King and Chab-Je

put Bhutan's sovereignty as most important

serve the tsa-wa-sum before self

build unity and harmony
***These are what matter most to UA – nothing more, nothing less.
Strategic Priorities
Role Model Professionals

School Excellence Model (Focus on enabling practices)

UA culture is a family culture; we are one for UA (focus on team work)

Innovation

School in a Garden
Teaching Staff Details: 2021
Sl No.

Name of teachers

Qualification

Subject/Courses

Years in Service

Nationality

Academic

Taught

1

Mr. Norbu Gyaltshen

GSc. MEd (Science)

Che/Phy/English

33

Bhutanese

2

Lopen Kinzang Dorji

BA Zhung, BT

Dzongkha

20

Bhutanese

3

Lopen Gangri

BA Zhung, BT

Dzongkha

20

Bhutanese

4

Mr. Kumar Pradhan

B.Com (Hons)

Accountancy

19

Bhutanese

5

Mr. Sanjay Gurung

BA (Eco Hons)

Commerce

19

Bhutanese

6

Lopen Rigzin Wangdi

MA Zhung, BT

Dzongkha/Rig

19

Bhutanese

7

Mr. Sonam Tobgyel

BCA


IT

19

Bhutanese

8

Mr. Rajan A.R.

MA (Eng Lit) BEd

English

21

Indian

9

Mr. D R Kharga

BSc. Med (Admin)

Biology

31

Bhutanese

10

Mr. Bijay Kumar Sapkota

BA (Eng Hons) BT

History

17

Bhutanese

11

Lopen Tashi Phuntsho

BA Zhung, BT

Dzongkha

17

Bhutanese

12

Mr. Prakash Chhetri

MSc, BT

Chemistry

17

Bhutanese

13

Ms. Susan Alexander

MA Eng Lit BEd

English

17

Bhutanese

14

Ms. Dip Maya Tamang

BA BT

Maths

12

Bhutanese

15

Mr. Kinley Dorji

B.Sc, BT

Maths

11

Bhutanese

16

Mr. Gopal Bhandari

B.Sc. BT

Physics

11

Bhutanese

17

Ms. Meena Mongar

BA BT

Geography

13

Bhutanese

18

Ms. Sujata Pradhan

BBA BT

Accountancy

10

Bhutanese

19

Mr. Jigme Tenzin

B.Sc (Life Sc)

Biology

10

Bhutanese

20

Mr. P.K Bhattarcharya

B.Sc. BEd

Physics/Maths

42

Indian

24

Mr. Dechen Dorji

BA (Dz Hons)

History

9

Bhutanese

21

Lopen Lakpa Dhendup

BA Zhung, BT

Dzongkha

9

Bhutanese

22

Mr. Sangay Dorji

BA (Geo-Eco)

Geography

9

Bhutanese

23

Lopen Sonam Penjor

BA

Dzongkha/Warden

9

Bhutanese

24

Mr. Sonam

BA (EVS)

EVS

7

Bhutanese

25

Mr. Hem lal Poudyel

MBA

Maths

7

Bhutanese

26

Ms. Bee Maya Subba

BA

Commerce

6

Bhutanese

27

Mr. Tashi Phuntsho

Physics/Math

8

Bhutanese

28

Mr. Jit Kumar Layo Thapa

B.Ed

Eng/History

13

Bhutanese

29

Ms. Saraswati Dhakal

Maths

4

Bhutanese

30

Mr. Tenzin Dorji

BA

warden/Dzongkha

4

Bhutanese

31

Ms. Sonam Zangmo

BA

English/Media

4

Bhutanese

32

Mr. Sanjeev Kumar Pradhan


BCA

ICT

17

Bhutanese

33

Mr. Tashila

BA

Commerce

8

Bhutanese

34

Ms. Srijana Pradhan

BA

Economics

3

Bhutanese

35

Ms. Pragita Darjee

BA

History

3

Bhutanese

36

Mr. Lal Bdr. Subba

B.Ed

Physics

3

Bhutanese

37

Mr. Mangal Dosh Limbu

BSc.

Maths/Warden

3

Bhutanese

38

Mr. Tshering Dorji

BA

Warden

3

Bhutanese

39

Mr. Tashi Dorji

BSc.

History Geo

2

Bhutanese

40

Mr. Tandin Wangchuk

BA

Geography

2

Bhutanese
Profile of the Principal & Deputy/Vice Principal of the Institute/School
Name : Norbu Gyaltshen
Designation : Principal
Grade : NA (Private)
Home Address : Wolokha, Guma, Punakha
E-mail : pk.ugyenacademy@education.gov.bt / gyltshen@gmail.com
Telephone : 02- 584710 (O) Mobile 77111000
Educational Background: (please begin with your present qualification)
| | | |
| --- | --- | --- |
| Qualification | Year | Institution |
| M Sc. (Edn) | 2000 - 2001 | NSW, Australia |
| B.Ed (Secondary Phy/Chem) | 1985 - 1988 | NIE, Samtse |
| ISC (Science) | 1983 - 1985 | Sherubtse College |
| ISCE | 1974 - 1982 | St. Augustine's School, WB India |
Professional Experience: (please begin with your present post and assignment)
Professional Experience/Courses

From - To

Place of Assignment/Remarks

Royal Tutor

1988 – 1996

Program Officer (Career Section) & National Scouts' Commissioner

Also, Royal Tutor (Mainly remedial classes after school)

1997 - 2000

YGCD, MoE, Thimphu &

Samtenling Palace, Thimphu

PSY Tech Cert A

2004

Oxford, UK

Leadership

2008

Temasek, Singapore

Proctor Harvard

2009 -2010

Entrance Exams for Harvard University, USA

Educating for GNH

2009-2011

Satyai Sai, Bangkok

Mediator

2014

QUT Australia

Principal

2002 – till date

Ugyen Academy, Punakha
Name : Dili Ram Kharka
Designation : Vice Principal
Grade : NA
Home Address : Dangling, Umling, Sarpang
E-mail : dilliram_kharga@yahoo.com
Telephone : 02-584712 (O) Mobile 17430315
Educational Background: (please begin with your present qualification)
| | | |
| --- | --- | --- |
| Qualification | Year | Institution |
| M.Ed (Educational Management) | 2009 -2012 | Paro College of Education (RUB) |
| P.G Diploma in Counseling | 2009 | NCERT, New Delhi |
| B.Sc Hons | 1998 – 2000 | Govt. College, Darjeeling |
| B.Ed (Secondary Sci) | 1987 - 1990 | NIE, Samtse |
| ISC | 1985 – 1986 | Sherubtse College, Kanglung |
| ICSE | 1983 – 1984 | Punakha Central School, Punakha |
Professional Experience: (please begin with your present post and assignment)
| | | |
| --- | --- | --- |
| Professional Experience | From - To | Place of Assignment |
| Vice Principal | 2008 till date | Ugyen Academy |
| HoD (Science) | 2004 – 2007 | Ugyen Academy |
| Vice Principal | 2000 – 2003 | Karma Jr. High School, Phuntsholing |
| Science Teacher | 1994 – 1997 | Pemagatshel MSS, Pemagatshel |
| Science Teacher | 1990 – 1993 | Daga Jr. High School, Dagana |